Poses to relieve back pain
We are living in a technology age, whether it is work or for leisure time activities, we tend to spend most of our time on our computers and/or phones. Staying on one position for a long time can cause significant changes on the body. Yet, until then, we suffer from aches that caused by sedentary lifestyle. Nobody can tell that they do not have 5 minutes to get up and move, stretch and relieve back pain away.
Downward facing dog + upward facing dog
How to do: Start from standing position, put your hands flat on the ground, take your legs back one by one, creating triangle with the ground. Or, start from table position, hands and knees on the ground, and slowly raise your tailbone and put the legs behind to create triangle. Start with your back straight and long, knees bent, hips towards the sky, stretch the bends one leg at a time until you can have straight line in your legs. You will be able to touch your heels to the ground with time. Hold the pose for 5-6 breaths.
Benefits: This is a great pose for lengthening the spine, stretching the hamstrings, which will help with lower back pains.
Cat-cow pose
How to do: Stand on fours, inhale and lift the chest and tailbone towards the sky, exhale and arch the back into the ground. Do this in harmony with your breath.
Benefits:  This move stretches hips, torso and entire spine.
Standing forward fold with hands clasped

Standing forward fold with hands clasped
How to do: Start in a mountain pose, clasp your hands behind your back and fold forward, trying to keep the spine as straight as possible, bringing the spine closer and closer to the legs, while the clasped hands are hanging over 🙂
Benefits: standing helps with the hamstrings and hands help the chest and shoulder to open up.
Seated forward fold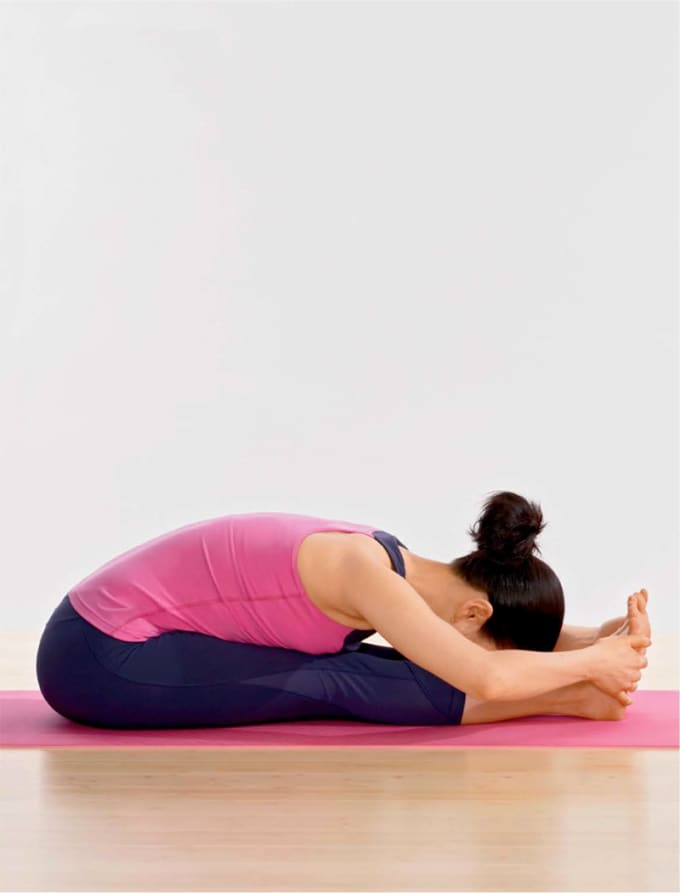 How to do: Start in upright seated position, keep your legs straight in front of you, star to walk your hands along your legs until it is uncomfortable, goal is to touch the toes. Don't worry if you can't touch the toes yet, it still gives stretch through the hamstrings.
Benefits: Lengthens the spine, intense stretch in the hamstrings.
Child's pose

Child's pose
How to do: Start with table top position, slowly bend your knees, sit back onto your legs, keep the hands straight in front of you, rest the forehead on the ground, let it all go.
Benefits: Relieve back pain, relaxes all the muscles you have been pulling, entire back, the hips, arms, etc.
Downward facing dog + upward facing dog
Cat-cow pose
Standing forward fold with hands clasped
Seated forward fold
Child's pose
http://girltopic.com/relieve-back-pain/